Homemade apple enchiladas, comfort food hot from the oven!
If you like apple pie, you will love these wholesome apple enchiladas. They remind me of apple blintzes, but are so much better!
Serve them hot or cold for a delicious breakfast, or top each with homemade Coconut Ice Cream or Keto Ice Cream for a healthy dessert.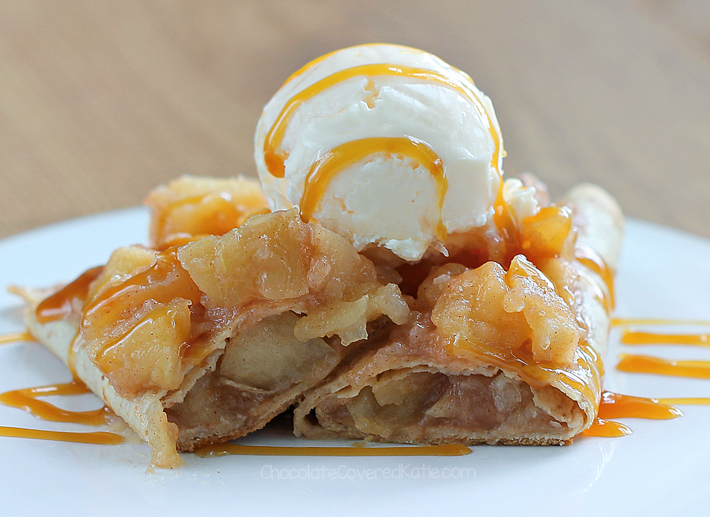 I also topped mine with homemade Coconut Caramel Sauce.
It was basically like eating a giant caramel apple covered in creamy vanilla ice cream and stuffed into a warm tortilla.
And while I know apples are normally a winter dessert, eating these enchiladas always makes me think of a summer fair. They'd be perfectly at home alongside other typical fair foods like funnel cakes, popcorn, corn dogs, and deep fried oreos.
Or whatever they're deep frying these days.
When I lived in Texas, I learned that pretty much any food you could possibly imagine can be deep fried.
Anyway, but these apple enchiladas are BAKED, not fried.
Sorry, Texas.
This is culinary fusion at its finest. The hot-from-the-oven apple enchiladas give you all the cinnamony goodness of hot apple pie stuffed securely into a tortilla and baked to a bubbly perfection.
While traditional apple enchilada recipes can call for up to an entire cup of sugar and a large amount of butter, this version has been lightened up considerably, making it a delicious indulgence for dessert
or
breakfast.
For the optimum dessert-enchilada experience, don't forget the ice cream!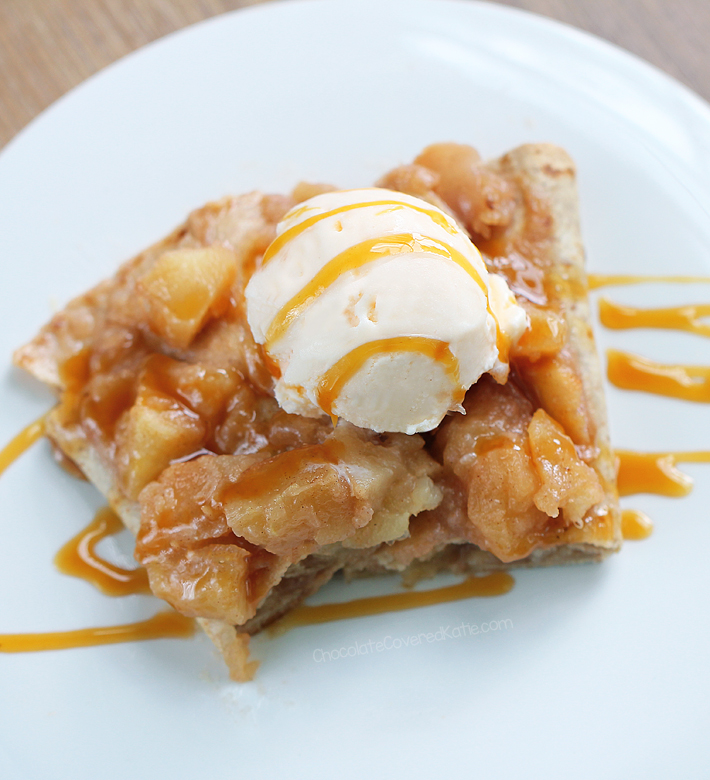 P.S. In case you were curious, here's a list of some of the weirdest deep fried things to come out of Texas:
Coca ColaFruit LoopsChicken Noodle Soup On A Stick
(I have no idea…)
BeerPBJ SandwichesTexas Sheet CakeButter
(Yes, deep fried butter)
BubblegumKool-AidMashed PotatoesGrasshoppers
I'm going to stop with this list now.
Because, yikes.
Apple Enchiladas
Adapted from Healthy Apple Pie
Print This Recipe
Ingredients
4 1/2 cups chopped apples (about 4 1/2 small apples)
2/3 cup water
1 tsp cinnamon
1/8 tsp salt
2 tbsp cornstarch or arrowroot
scant 1/4 tsp uncut stevia OR 1/2 cup pure maple syrup or sugar of choice
1 cup apple juice (I used all-natural)
1 1/2 tbsp lemon juice
four 8-inch soft tortillas, gf or keto tortillas if desired
Instructions
Place 2 cups of the chopped apples in a medium saucepan with the water. Bring to a boil, then cook on low heat for 8 minutes. Meanwhile, combine remaining 2 1/2 cups apple with all other ingredients in a blender, and blend until completely smooth.

After the 8 minutes, add the blender contents to the saucepan and bring to a boil again. Once it begins to boil again, turn heat to low. Cook 30 minutes, stirring very occasionally (about 3-4 times). Let cool, then put in the refrigerator, uncovered.

Wait at least 4 hours before proceeding with the rest of the recipe, as this filling will thicken as it cools. For the apple enchiladas: Preheat oven to 400F, and lightly grease an 8-in square pan.

Portion about 1/3 cup of filling in the middle of each of 4 tortillas, roll up, then stick into the pan (seam-side down). Cover with the remaining sauce. Bake 28 minutes. Serve warm or cold, with ice cream of choice.