This cheesy, creamy, and comforting sausage potato soup is loaded with Italian sausage, golden baby potatoes, veggies, and a cheesy cream base. My take on the famous "cheeseburger soup" #easy #healthy #stovetop #sausage #potato #soup.
If you've ever heard of cheeseburger soup, this cheesy sausage potato soup is my interpretation of that! Typical cheeseburger soup has ground beef and lots of velveeta cheese, so I changed up a few things — freshly grated sharp cheddar and spicy sausage instead. And while I'll never turn down this cheese packed burger recipe, I might pick this soup over it in cold temps.
While there is a bit of prep involved and a good amount of chopping, this soup comes together nicely. To save some prep time, you can buy pre-chopped mirepoix (chopped onions, celery, and carrots) at most grocery stores. You can also use pre-minced garlic and leave the peels on the potatoes (I always do!). With those few short-cuts this soup will come together even quicker.
Below is a quick overview in picture form and be sure to check out the quick video (1 min, 11 seconds) to see how easily this sausage potato soup comes together. Enjoy!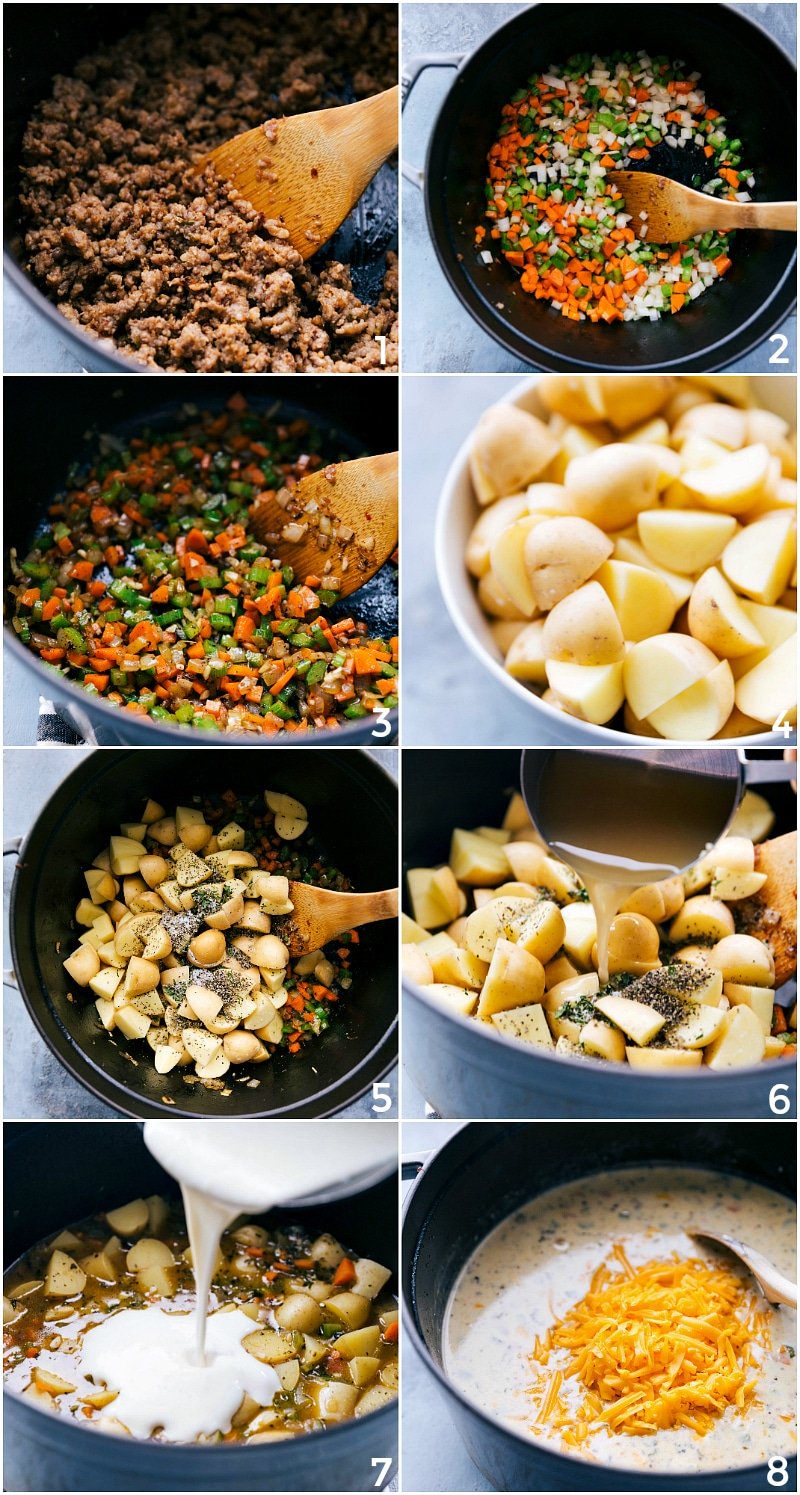 How to make sausage potato soup
Above, I've broken down the steps for making this sausage potato soup in picture form, and below is a description of what's happening in each of the numbered photos.
Brown the sausage; use hot or mild Italian sausage (whichever you prefer). Tip: use a hot cast iron skillet and don't over-stir or over crumble the meat — you want it to get browned to develop layers of flavor. Transfer sausage to a paper towel lined plate to drain off the grease.
Next the onions, celery, and carrots get sautéed (they don't get much more tender throughout the cooking process, so don't rush 'em). Dice all 3 veggies into small and even sizes so they'll cook quickly and integrate into the soup nicely.
Celery, carrots, and onion are nice and tender!
Dice up the baby gold potatoes. I definitely recommend yukon gold or baby gold potatoes, they taste the best in this soup! Cut the potatoes into small bite-sized even pieces as shown in this picture.
Add potatoes and all the seasonings.
Add chicken stock or broth (we like chicken stock best)
Meanwhile, while the soup is simmering, prepare a roux and then cream mixture in a separate pot AND grate some cheddar cheese. Pour the cream mixture into the soup and then add in the cheddar cheese. Add in the sour cream and be sure to taste and adjust seasoning. Make sure to use freshly grated cheddar so you don't get a waxy sausage potato soup (pre-grated cheese has a cellulose coating to keep it from clumping together).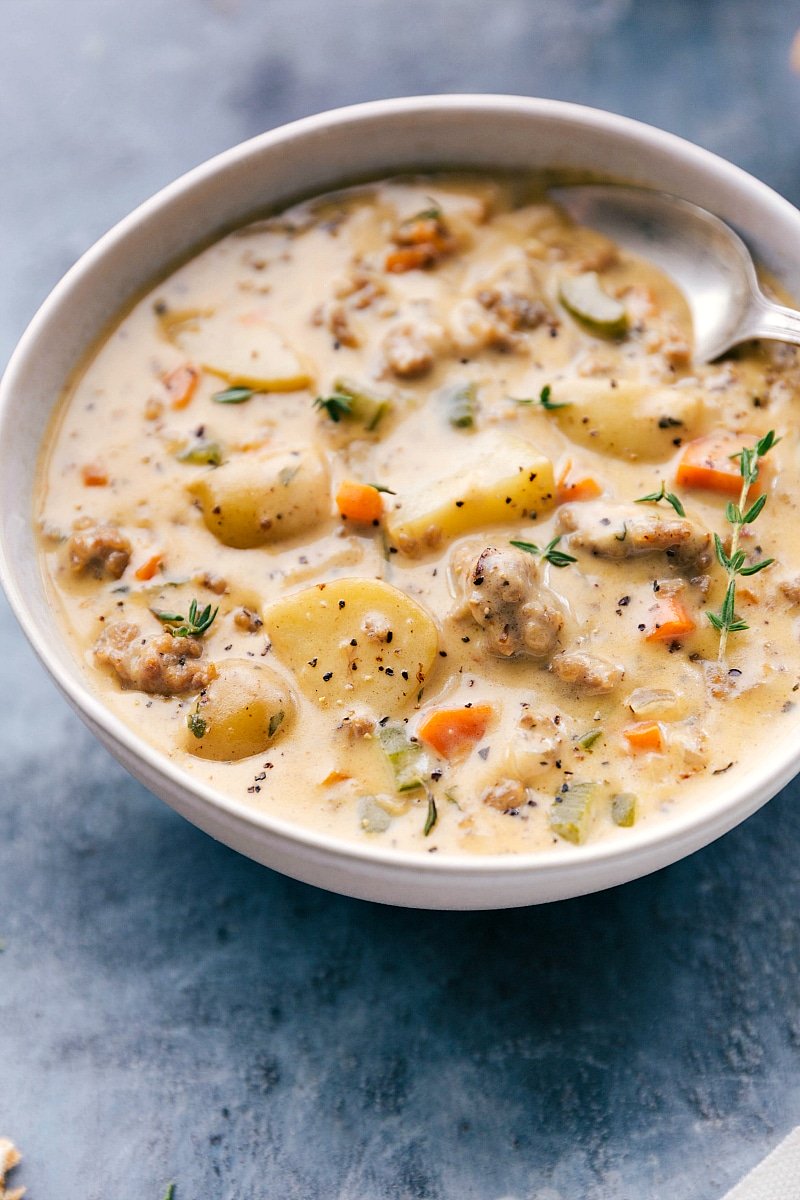 Sausage potato soup notes
Worried about heat? Use mild sausage instead! Even with the spicy sausage, I would say this is not a spicy soup at all, but I recognize there are differing levels of spice tolerance 🙂
Use low fat milk: we tried this soup with whole milk and it was a tad too rich. Our favorite in testing was 1% milk. I do not recommend using skim milk or milk alternatives (like soy, almond, rice, etc.) as those milks will mess with flavor and consistency.
Freezing: unfortunately, this sausage potato soup doesn't freeze very well because of all the dairy in it. If you're worried about having too much, I'd recommend halving the recipe!
Reheating this soup: I recommend reheating this soup on the stovetop over low heat, stirring frequently. (Boiling may cause ingredients to separate.) Soup is best within 1-3 days. More info here.
Making this sausage potato soup vegetarian: swap out the chicken stock for vegetable stock (or broth) and replace the sausage with beyond meat crumbles (or similar brand) or omit the meat entirely!
Sausage Potato Soup
This cheesy, creamy, and comforting sausage potato soup is loaded with Italian sausage, golden baby potatoes, veggies, and a cheesy cream base.
Keyword:
sausage potato soup
Ingredients
1

pound

spicy Italian sausage

(can use mild)

5

tablespoons

unsalted butter,

separated

1

tablespoon

olive oil

2 and 1/4

cups

mirepoix:

3/4 cup diced carrots, 3/4 cup diced celery, 3/4 cup diced yellow onion

2

cloves

garlic,

minced

4

cups

chopped baby gold potatoes

1

teaspoon EACH:

dried basil, dried parsley flakes

4

cups

chicken stock

(or chicken broth)

1/4

cup + 2 tablespoons

all-purpose flour

3

cups

1% milk

1/2

cup

heavy cream

1

teaspoon

salt and 1/2 teaspoon pepper

2

cups

extra SHARP Cheddar Cheese

1/4

cup

sour cream

(fat free is great)
Instructions
SAUSAGE: Line a large plate with paper towel and set aside. Heat a very large pot (I recommend cast iron), over medium-high heat. Once hot, add in the sausage. Let stand without touching for 30 seconds to a minute. Then stir and crumble up the meat until you have sausage crumbles. Transfer to prepared plate and drain off any grease except for 1 tablespoon. If there is no grease that's fine, add in 1 tablespoon olive oil to the pot.

VEGGIES: In the same pot with 1 tablespoon sausage grease OR olive oil, melt 1 tablespoon of the butter. Add the diced carrots, celery and onion and saute 5-7 minutes or until tender (if not diced small, you may need 7-10 minutes). Add garlic and saute 30 seconds more.

POTATOES & SEASONING: Stir in the chopped potatoes, dried basil, dried parsley, salt and pepper to taste (I add 1 teaspoon fine sea salt and 1/2 teaspoon freshly cracked pepper, but add to preference and don't forget to taste and adjust at the end!). Stir. Add in chicken stock or broth. Bring to a boil over medium-high heat, then reduce heat to medium, cover with lid and cook 15-20 minutes or until the potatoes are fork tender (easily pierced with a fork).

CREAM SAUCE: Meanwhile, melt remaining 4 tablespoons butter in a medium saucepan over medium heat. Stir in flour and cook, whisking constantly 1 minute. While whisking vigorously, slowly pour in milk (whisk well until smooth). Cook stirring constantly until mixture begins to gently boil and thicken and then stir in the heavy cream.

FINISHING: Remove from heat and once all veggies are tender pour the milk/cream mixture into the soup and stir. Lower heat to low and stir in the shredded cheese. Cook until cheese is melted. Stir in sour cream. Return the sausage into the soup. Season to taste with salt and pepper. Serve warm with freshly chopped parsley or thyme and bread!
Recipe Video