There are few things I love more in the summer than S'mores. And since bonfires and homemade S'mores aren't as readily available as I'd like, I've resorted to making as many treats as possible with plenty of chocolate, lots of marshmallows, and graham crackers.
And S'mores Cookie Bars are one of my favorite creations as of late. These bars begin with a soft, chewy, and sugary oatmeal cookie layer and are loaded with creamy milk chocolate and fluffy sweet marshmallows.
S'mores Cookie Bars ingredients
Butter: Use unsalted butter to perfectly control the amount of salt in the bars.
Light brown sugar: Pack the sugar when measuring.
Old fashioned oats: Avoid quick oats or steel cut oats; they won't work in this recipe.
White all-purpose flour
Baking soda
Salt: It balances and intensifies flavors
Milk chocolate chips: We use milk chocolate because nothing screams S'mores like milk chocolate to me! That said, these bars are very sweet; if you're concerned about sweetness use semi sweet or dark chocolate instead.
Marshmallow fluff: Jet-Puffed Marshmallow Creme® (not sponsored; affiliate link) is by far my favorite fluff to use in these bars. If you don't have access to marshmallow fluff, you can try making your own.
Graham crackers: No S'mores treat is complete without these iconic crackers! We crush up just 2 crackers to mix into the topping for S'mores Cookie Bars.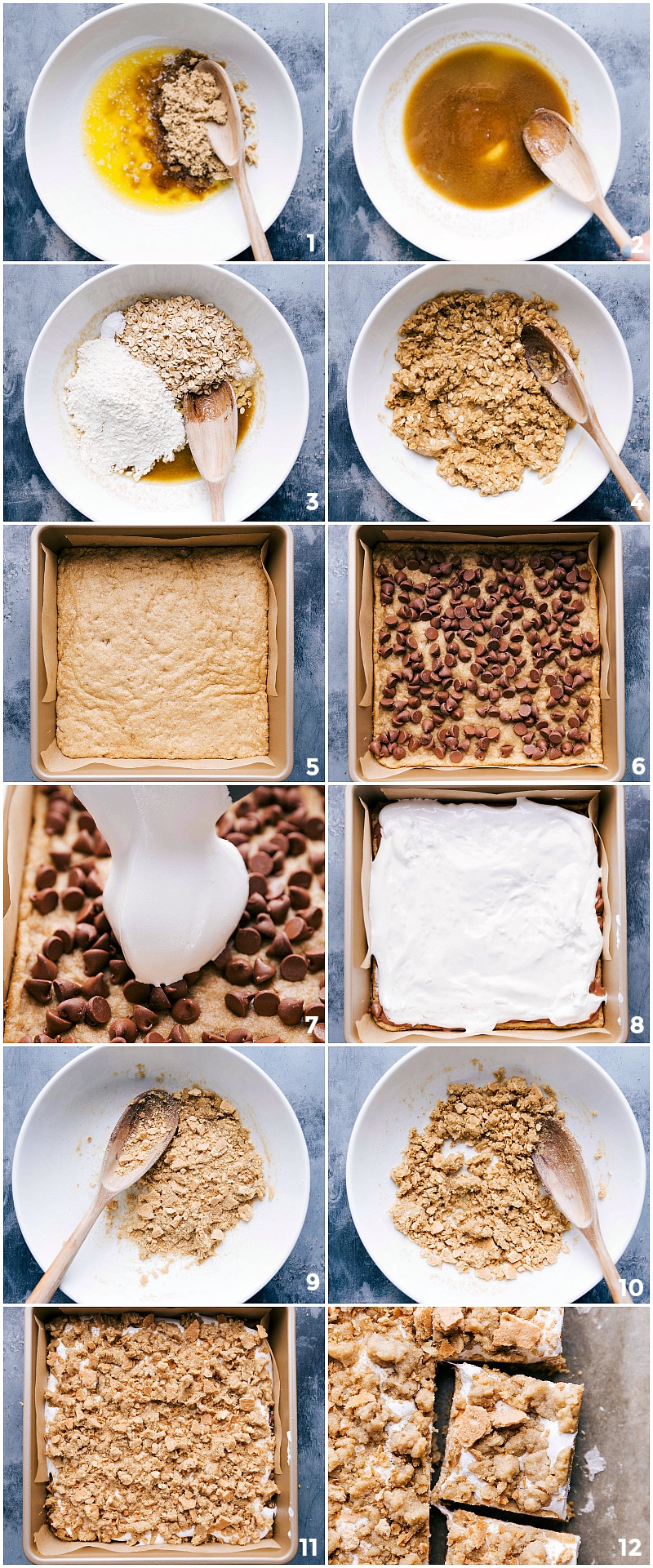 How to make S'mores Cookie Bars
Add melted and cooled butter to brown sugar.
Mix to combine.
Add in the flour, oats, baking soda, and salt
Stir to form a thick cookie dough.
Spread a little over half of the dough to the pan, press into an even layer, and bake.
Sprinkle chocolate chips on top of the warm dough.
Soften marshmallow fluff in the microwave.
Spread on top of the chocolate chips.
Crush 2 graham crackers and add to the remaining cookie dough.
Stir to combine.
Sprinkle over the marshmallow fluff and bake again.
Let cool and set up, cut into bars, and enjoy.
Recipe tips
Wait for the butter to cool to room temperature. If you add sugar to hot or even warm butter, it will melt the sugar and cause these S'mores Cookie Bars to be greasy.
Line the baking pan. These bars are sticky! Make sure to line the pan with parchment paper for easy removal.
Spoon and level the flour: to avoid packing too much flour into the cookie base. Watch the linked video if you need some guidance.
Use high-quality milk chocolate for best results. You'll get both a better melt and better flavor. My favorite for S'mores Cookie Bars is Ghirardelli® or Guittard®. Cheaper brands can have a waxier content that is far less flavorful.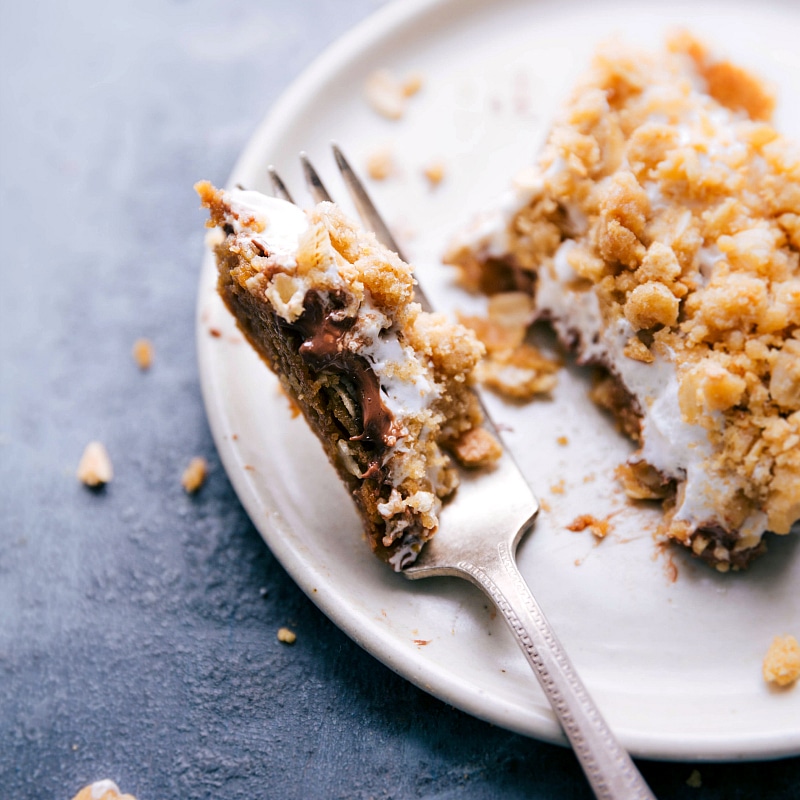 S'mores Cookie Bars
Gooey, marshmallow-filled, chocolate-layered, graham-cracker oatmeal crumb coated S'mores Cookie Bars.
Ingredients
3/4

cup

unsalted butter,

partially melted and cooled

3/4

cup (150g)

light brown sugar, packed

1

cup (135g)

white flour

1

cup (102g)

old fashioned oats,

do not use quick or steel oats

1

teaspoon

baking soda

1/2

teaspoon

salt

1

bag (12 ounces)

milk chocolate chips

1

jar (7 ounces)

marshmallow fluff

(I use Jet-Puffed Marshmallow Creme)

2

graham crackers
Instructions
PREP: Preheat the oven to 350 degrees F. Line an 8x8 or 9x9-inch baking pan with parchment paper and set aside. We prefer 8x8 pan for thicker bars, but either pan size works.

COOKIE BASE: In a large bowl, mix the 3/4 cup melted and cooled butter (See Note 1), 3/4 cup brown sugar, 1 cup flour, 1 cup oats, 1 teaspoon baking soda, and 1/2 teaspoon salt. Stir until combined into a thick cookie dough. Divide the mixture in half and press one half of it into the prepared pan.

BAKE: Bake at 350 degrees for 8 minutes, then remove.

CHOCOLATE AND MARSHMALLOW: Immediately out of the oven, sprinkle the 1 bag of chocolate chips evenly over the cookie crust. Warm the marshmallow fluff in the microwave (make sure there is no metal/foil topping on the fluff or don't microwave) for 7 seconds. Spoon the marshmallow fluff on top of the chocolate chips and, working carefully (and slowly), gently smooth into one layer.

REMAINING COOKIE DOUGH: Crush up the 2 graham crackers (I put them both in a bag, seal the bag, and crush with a wooden spoon or handle of a knife; just a coarse crush is enough). Add the crackers to the rest of the cookie dough mixture and stir to combine. Crumble the cookie dough mixture over the marshmallow fluff. Bake for another 13-15 minutes until the top layer is lightly browned.

COOL: Remove from the oven and allow to cool at room temperature for at least 1 hour before cutting into the bars. Using the overhang of parchment paper, pull bars out and cut with a sharp knife. Best enjoyed within 2-3 days (store in an airtight container).
Recipe Video
Recipe Notes
Note 1
: Don't add hot butter to the sugar -- it will melt the sugar and cause greasy bars.