Another thing I wanted to check off the to-cook-list. And finally, I got to check it off. I've done this roast pork belly with cracklings for handful times and failed that many times too !! The most desirable thing to me (and many others) when it comes to roasted pork belly is the cracklings. I had never been able to create those crispy cracklings on the skin.
I've tried many methods. Poking the skin and then dehydrate the skin overnight.

One of my favorite item to get from a Chinese BBQ restaurant is crispy pork belly! The crunch the juicy fatty pork, I love it! Here's my recipe on how to make crispy pork belly from home and it is surprisingly simple!
Ingredients:
1 - 3 Pound Pork belly

1 tbsp Chinese cooking wine

1 tsp salt 1 tsp sugar

1 tsp five spice

1 tsp white pepper Rice vinegar

Baking soda
Didn't turn out good. Then I tried scoring the skin with a knife and then dehydrate the skin overnight. Still the same result. I even use a hair dryer to blow dry the skin because I thought it wasn't dry enough!!!! I was a little bit devastated. Read on to see why this recipe will be your go-to after you are done reading!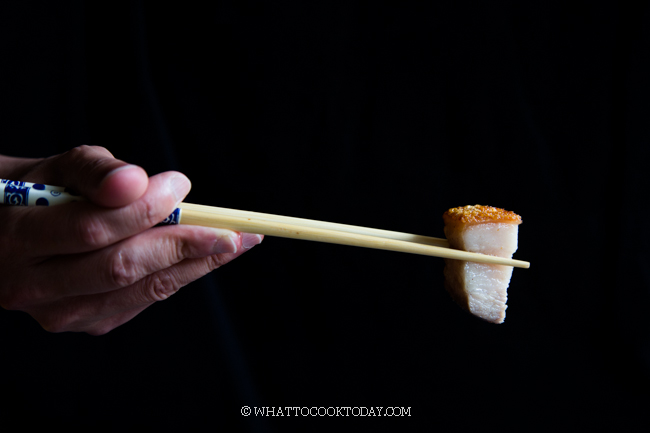 INGREDIENTS FOR CRISPY CHINESE ROAST PORK BELLY
1. PORK BELLY
You need a slab of pork belly, at least about 5-6 inches in width and choose the one with nice layers of fat
2. COOKING WINE
I use Shaoxing wine, but you can use dry sherry or other cooking wine of your choice if you want
3. CHINESE FIVE-SPICE POWDER
This aromatic Chinese five-spice powder is often used with pork and it adds a nice flavor to it
4. BROWN SUGAR
This dish isn't meant to be sweet, but a bit of sugar sure brings out the flavor
5. SALT
We don't need a whole lot of salt in the marinade, but it helps to enhance the flavor. You do need A LOT of salt later to pour on top of the skin before baking though, like LOTS OF IT!
6. COOKING OIL: We just need a bit of oil to brush on top of the skin before broiling so that the skin will crackle nicely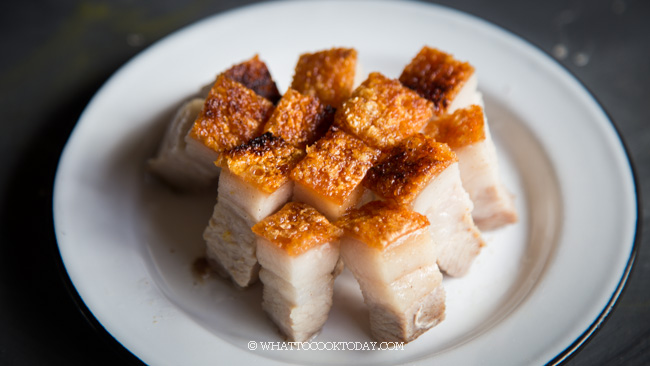 WHY THIS SIU YUK RECIPE GIVES YOU CRISPY CRACKLINGS WITHOUT MUCH FUSS
Seriously, what's so difficult about this cracklings thing!! I've failed so many times before! It's all in the science. The salt draws moisture out from the skin, which is important to form that crackles. I have made this siu yuk using this method at least 10 times and it hasn't failed me so far!!!! I seriously don't know why people are still poking, scoring, and deep-frying the pork belly when all you need to do is pour that darn salt on top of the skin 🙂
I didn't even bother to poke or score the skin or blow dry it this time. I didn't even pre-boil the meat and do other extra works I used to do. The meat underneath the skin comes out still moist and the skin crackled perfectly. FINALLY !! I almost cried with joy when I saw the crackles! Who wouldn't !! My husband said I finally nailed it!! Yes I DID !! BOOKMARK IT if you haven't already !
HOW TO MAKE EASIEST CRISPY ROAST PORK BELLY IN THE OVEN
1. MAKE THE MARINADE: Combine cooking wine, sugar, salt, and five-spice powder in a bowl and stir to mix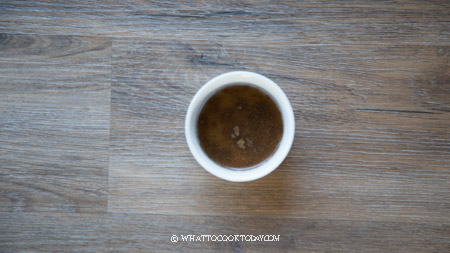 2. MARINATE THE PORK BELLY OVERNIGHT: Rub the marinade all over the pork, except for the skin. Pat the skin dry with paper towel. Refrigerate uncover and let it marinate overnight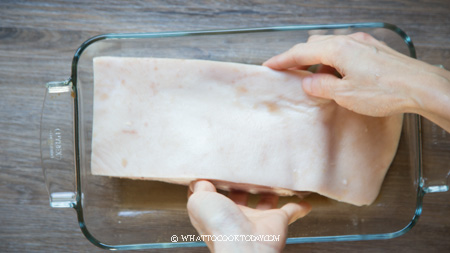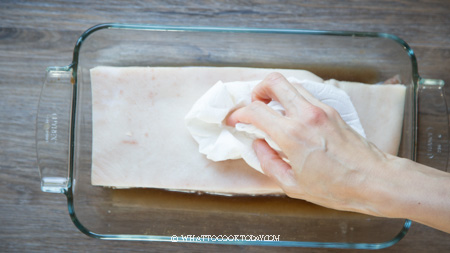 3. SET UP THE BAKING TRAY:
Line a baking sheet with aluminum foil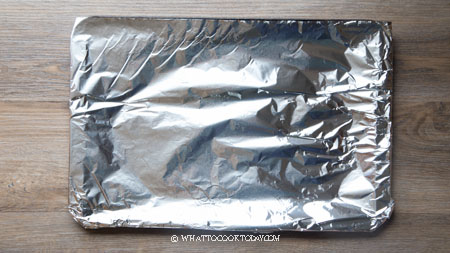 Place a roasting rack on top
Get 2 sheets of aluminum foil, about 10×12 inch
Place the pork belly on top of the foil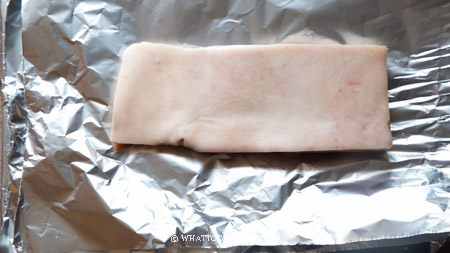 Fold all four sides up and then roll them down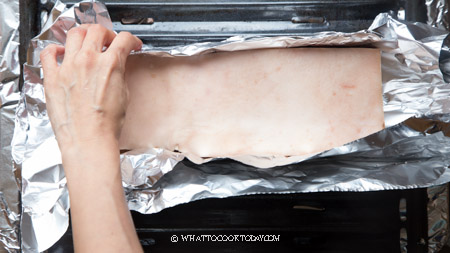 Leave about 1-inch height from the skin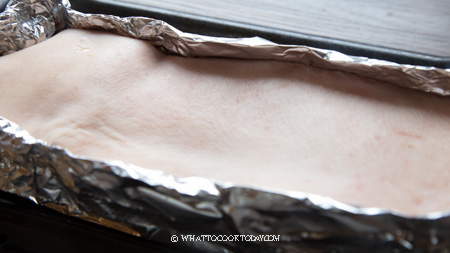 This is how it looks like after it's all set up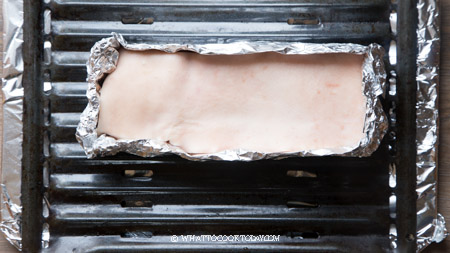 4. POUR SALT: You can brush a thin layer of apple cider vinegar on the skin and then pour about 1/2-inch of salt all over the skin very carefully. Try not to get the salt fall through the gap on the sides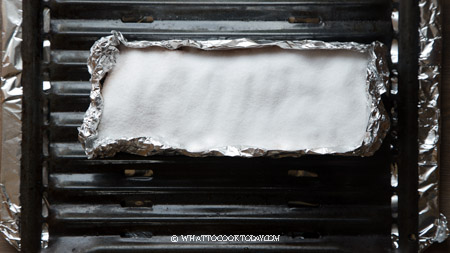 5. BAKE: Bake the pork belly at 375 F for 1 1/2 hours
6. REMOVE THE SALT CRUST: After 1 1/2 hours, the salt would've formed a crust that you can gently remove and discard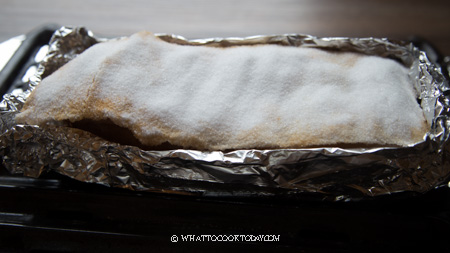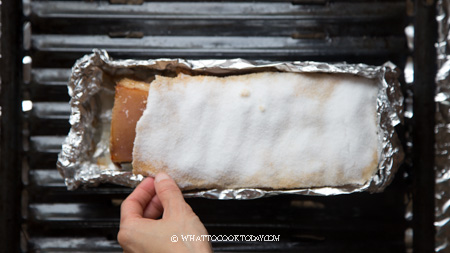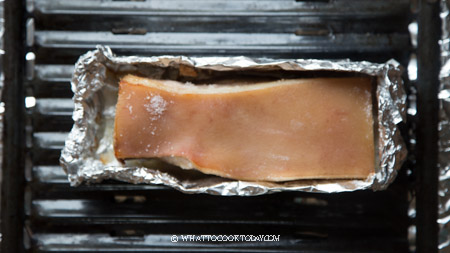 7. BRUSH WITH SOME COOKING OIL: Brush the skin with a bit of cooking oil all over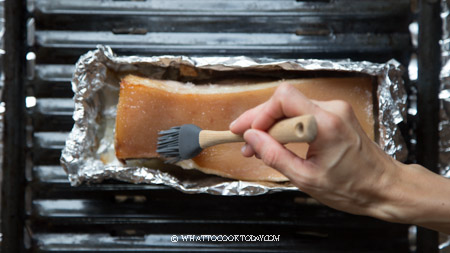 8. BROILING:
Fold the foil down to expose the skin for broiling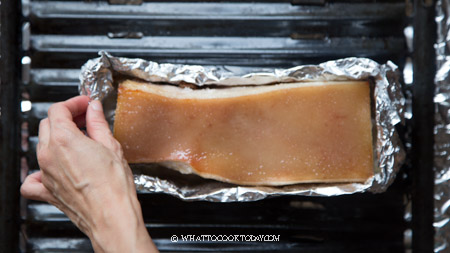 Broil on low until the skin crackles. DO NOT WALK AWAY during this process. Some parts may get brown faster than the others. You can cover those parts with foil to prevent burning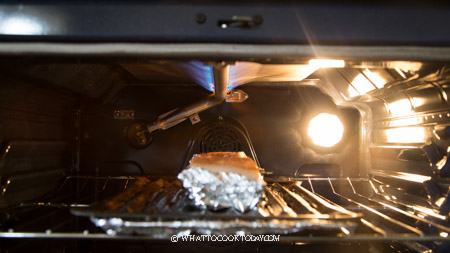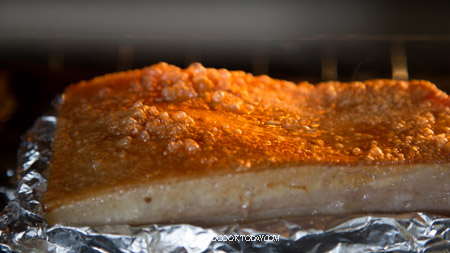 9. REST BEFORE SLICING: Once you are happy with the crackles, remove from the oven. Rest for 10 minutes and then place the skin side down on a chopping board (easier to cut this way) and cut into desired size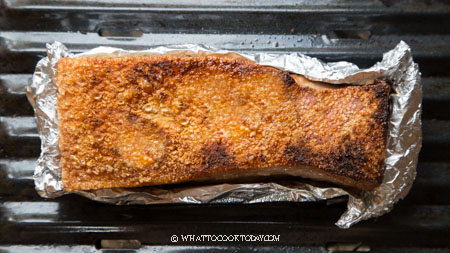 My kids never say no to these crispy siu yuk. NEVER! 🙂 and I'm happy to make them now because it's truly no fuss and easy recipe!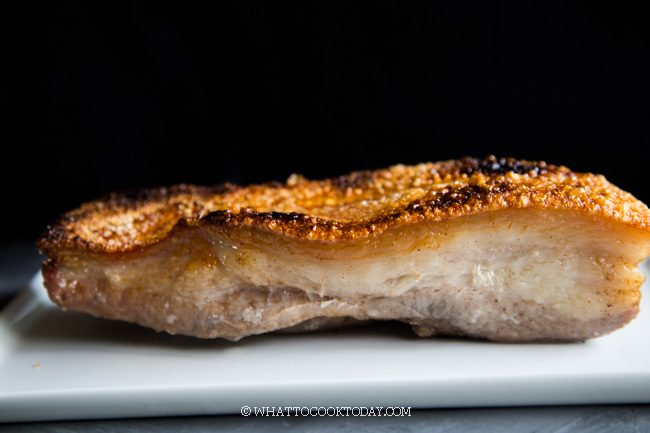 WHAT TO SERVE WITH SIU YUK
They are usually eaten with rice as part of a multi-course meal in a Chinese family (at least my family). You can serve them with noodle too if you like. They can be used in other recipe like : kua chai pui, crispy roast pork black garlic rice
HOW TO STORE LEFTOVER AND REHEAT ROAST PORK BELLY
Refrigerator: Wrap them up in a foil and they can be refrigerated for up to one week.
Freezer: You can freeze the cooked roast pork for up to one month. Thaw before reheating
HOW TO CRISP UP ROAST PORK WITH CRACKLINGS
Preheat oven or air fryer to 375 F. Cover the meat part with foil, exposing the crackling top and reheat until the crackling part is crispy, about 10 minutes or until it's crispy again
DID YOU MAKE THIS EASIEST CRISPY ROAST PORK BELLY RECIPE?
I love it when you guys snap a photo and tag to show me what you've made 🙂 Simply tag me @WhatToCookToday #WhatToCookToday on Instagram and I'll be sure to stop by and take a peek for real!
The Easiest Crispy Roast Pork Belly (Siu Yuk / Sio Bak) - Salt Crust Method
The easiest Chinese crispy pork belly recipe that gives you those beautiful cracklings. Truly no fuss recipe. Never fails to give you those nice crispy cracklings EVERY TIME!
**The recipe is written in Metric and sometimes I include U.S. Measurements**
Please weigh ingredients with a digital kitchen scale instead of using measuring cups as they are not very accurate especially when it comes to recipe that requires precision.
INGREDIENTS
3
lbs
slab of pork belly with skin
Salt

-

coarse salt or rock salt is best (for baking)

Cooking oil

-

for brushing
Marinade:
2

Tbsp

shao xing wine/dry sherry

1

tsp

Chinese five-spice powder

1

Tbsp

brown sugar

1/2

tsp

Salt
You will also need:
Aluminum foil

-

(heavy duty)

Apple cider vinegar
INSTRUCTIONS
To prepare the day before:
Mix the wine, brown sugar, five-spice powder (if using) and salt in a small bowl. Place the pork belly in a container and gently pour in the marinade and use your hand to kinda rub the marinade into the meat and leave the skin out. Once you are done, pat the skin dry and put in the refrigerator without cover for at least 8 hours
When ready to roast the pork:
When ready to be roasted, preheat your oven to 375 F. Line your baking sheet with heavy duty aluminum foil and then place a roasting rack on top of it. Place another layer of aluminum foil on top of the roasting rack. Transfer the pork belly to the aluminum foil and fold all the sides up, leaving about 1-inch on top

Brush a thin layer of apple cider vinegar on the skin. Very gently pour the salt on top of the skin to form about 1/2-inch of salt layer, Use your hands to keep the aluminum foil as close to the pork as much as possible while pouring the salt to minimize any gap to prevent salt dripping through the gap too much (that will make the pork very salty). Pop it into the oven and let it roast for the next 1 hour and 30 minutes

After 1 hour and 30 minutes, remove from the oven and gently remove the crust of salt off the skin. Brush the skin with some cooking oil. Carefully fold the aluminum foil down a little bit and then place the pork belly at the lowest rack of the oven and turn the broiler to low. This is the part when the cracklings start to form. Watch it carefully, as you don't want them to burn. Some spots may get burn quicker than the others, I use an aluminum foil to cover the part that has crackled and started to get burn or you can move it down further from the fire. Let it broils until you are happy with the cracklings. Remove from the oven and let it sit for at least 10 minutes before slicing

Carefully unfold the aluminum foil down and remove the pork onto a chopping board. You can use apple cider vinegar to brush the sides of the pork belly to get rid of any excess salt that might get in the gap when you pour the salt earlier

When ready to slice them, I found it easier to turn the skin side down on the chopping board and slice while applying gentle pressure on the knife to break off the pieces. Serve with your favorite chili sauce or on its own
Notes
Nutrition Facts
The Easiest Crispy Roast Pork Belly (Siu Yuk / Sio Bak) - Salt Crust Method
Amount Per Serving (50 g)
Calories 124
Calories from Fat 81
% Daily Value*
Fat 9g14%
Cholesterol 31mg10%
Sodium 351mg15%
Potassium 134mg4%
Carbohydrates 3g1%
Protein 8g