Chicken leg piece fry is a simple chicken legs recipe which is cooked on stove top by marinating the chicken drumsticks in some spices.
Chicken leg pieces are usually termed with other names like chicken drumsticks and they are usually baked or deep fried by marinating with various herbs or spices or masalas.
Other chicken recipes to check out from my blog are chicken keema, chicken pulao, dahi chicken, hariyali chicken, hyderabadi chicken curry, chicken changezi, chicken manchurian, chicken rezala recipe , chicken sukka etc…
Here, I have made it with one of the different methods where chicken is neither deep fried nor baked but is slightly roasted in some oil.
The roasted form of chicken leg piece can be served plain or can be served as a starter recipe or can be eaten as a side dish to any of the main course recipes. Also check out some more additional chicken starters on the blog such as chicken tandoori recipe, kfc chicken recipe, popcorn chicken recipe, chicken tikka recipe, chicken 65 recipe, chicken seekh kabab.
The chicken legs should always be marinated for at least an hour with aromatic spices to get the flavors infused into the chicken.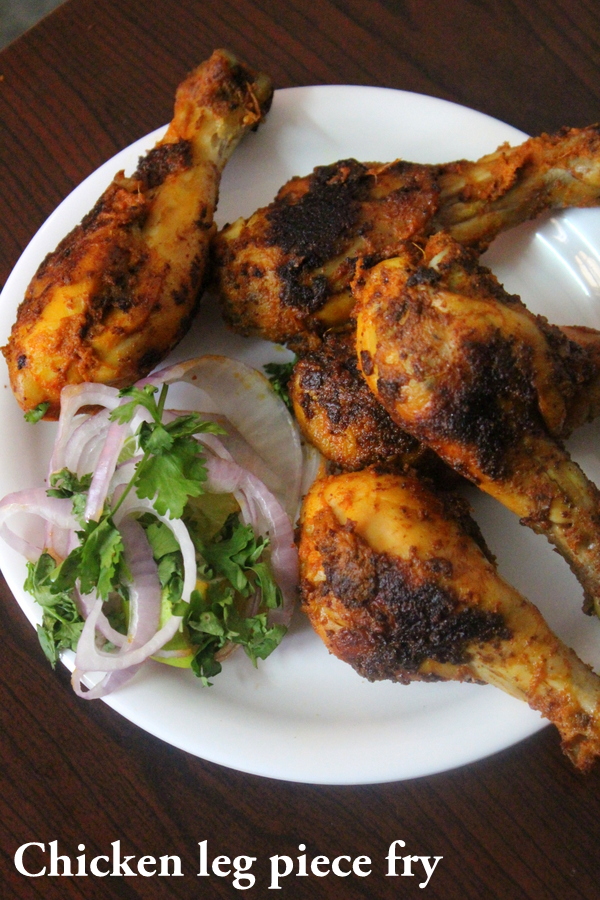 If there is little time to cook, then reduce the marination time to half an hour and marinate in refrigerator so that all the masalas get perfectly absorbed to the chicken pieces…
The flavors of the chicken pieces are absolutely restaurant made and I usually do not add too many flavors and always keep every dish very mildly spicy and yet flavorful.
I have seen various versions of making chicken leg piece fry and here I would be showing the simplest version of making chicken leg piece recipe which can be tried without any difficulty and all the spices are something which are easily available at home.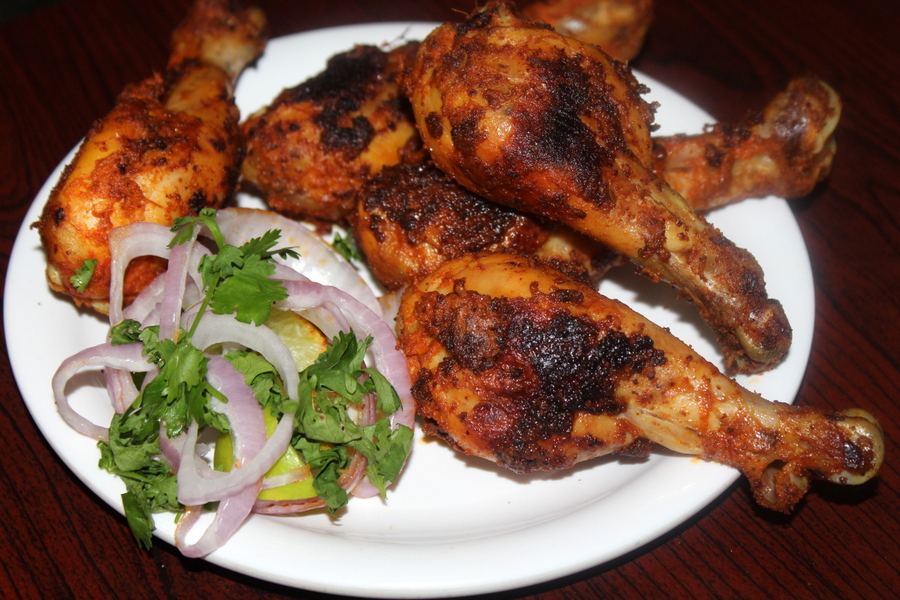 One need not require any oven to make this recipe and my main motto with this blog is to teach my viewers simple cooking techniques which does not require heavy equipments and every dish can be simplified and be cooked with the basic equipments available at home or in the kitchen.
It takes less time to make this chicken recipe and would love to hear feedback on my recipes which are posted along with video procedures and these recipes have been tried and tested many times before posting on the blog.
I would be glad enough to update with many more chicken legs recipes if you like this recipe of mine and would love to receive a rating which encourages us to post many more chicken legs related recipes…
Below are the recipe instructions for this delicious chicken delicacy and also check out the video below…
Do drop your queries related to the recipe below in the comment section or you can also follow us on youtube, facebook, twitter or pinterest for every latest update…