From garnishing desserts to topping salads, candied pecans show up frequently on this site! I'm completely obsessed with them and they add such a great element to so many dishes. Plus they are so simple to make — you'll be amazed how quickly they come together.
Read on for the process of how to make candied pecans!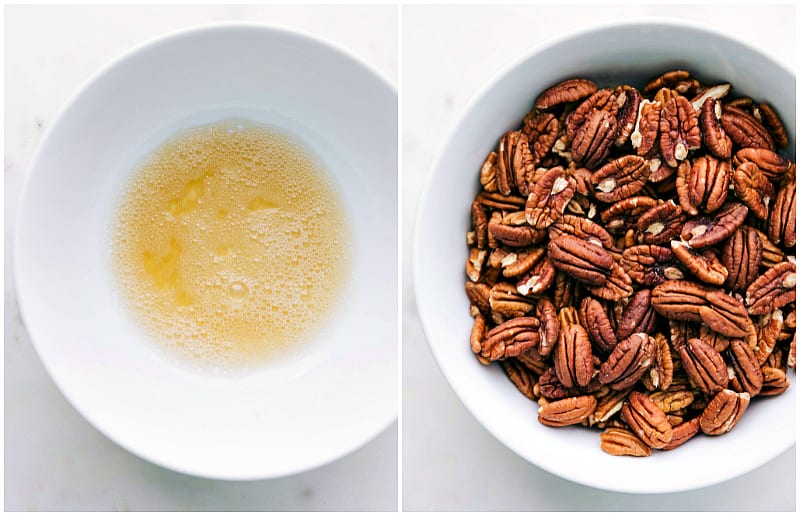 How do you make caramelized pecans:
Whisk: egg whites, vanilla, and water together until frothy (see picture above)
Toss: add pecans to the frothy egg mixture.
Stir: combine the sugar, cinnamon, and salt
Toss again: once again, toss the pecans in this mixture until they're all evenly coated
Bake: spread the pecans on a sheet pan and bake, flipping every 15 minutes.
You'll notice we're adding a few ingredients to these pecans and baking them, so these pecans won't have quite the shelf life that plain pecans have.
How long do candied pecans last?
At room temperature (70 degrees F) these candied pecans last up to
2 weeks.
In a sealed and airtight container in a dark/cool area, these candied pecans can last up to
45 days
.
Can you freeze candied pecans?
If you opt to
freeze these pecans
, they do quite well in a freezer at 0 degrees F. To freeze: store in an airtight container and freeze for up to
2
months
.

I've found baking candied pecans in the oven always yields the best and most consistent results, but you can use the stovetop in a pinch.
How do you make candied pecans on the stove?
Combine 1/4 light brown sugar, 1/4 cup white sugar, 1/4 teaspoon ground cinnamon, a pinch of salt, and 2 tablespoons water in a large skillet. Whisk to combine and stir over medium heat until the sugar is dissolved and the mixture is bubbling.
Stir in 1 cup of pecan halves and toss to coat in the sugar. Cook for an additional 2-3 minutes, stirring constantly and watching carefully.
Remove the pecans from the heat and pour over a large sheet pan lined with parchment paper. Use a spoon to quickly separate the pecans a bit.
Let pecans cool completely and enjoy!

For a cute way to package this candied pecans recipe:
Click to download the FREE Sugared Nuts Printable
To use this printable: purchase Kraft (brown) sticker paper at Office Max/Staples/Amazon. HERE is the exact package I used.
Save the free printable above to your computer.
Print off the "Sugared Nuts Printable".
Attach the stickers to the side of a mason jar. Place the cooled nuts into the jar, seal up the jar, and then tie some twine/ribbon around the jar.
Gift away!
Candied Pecans
A foolproof and simple recipe to making delicious candied pecans! Package these pecans up for a festive gift, add them to an appetizer/cheese board, or top your favorite salads/desserts with them.
Keyword:
candied pecans, candied pecans recipe, how to candy pecans
Servings
:
2
pounds candied pecans
Ingredients
2

cups

white sugar

OR: 1 cup white sugar and 1 cup light brown sugar

1

tablespoon

ground cinnamon

1

teaspoon

salt

2

large

egg whites

1

tablespoon

vanilla extract

1

tablespoon

water

2

pounds

pecan halves
Instructions
***This recipe halves well***
Preheat oven to 250 degrees F. Line an extra large sheet pan (or 2 sheet pans) with parchment paper (or a silpat liner) and set aside.

In a large bowl combine the white sugar, cinnamon, and salt. Stir to combine.

In another bowl, whisk the egg whites, vanilla, and water together until frothy. Toss pecans in the egg white mixture and then remove from that bowl using a slotted spoon into the bowl with the sugar mixture. Toss pecans in the sugar mixture until well coated. Spread coated pecans onto a baking sheet. Pecans shouldn't be overlapping

Bake in the preheated oven, stirring every 15 minutes, until pecans are evenly browned, about 45 minutes to an hour. Let stand for 30 minutes to an hour to fully cool and solidify.