There's a big fat fusion of flavors happening right here right now and I'm SO EXCITED about it. Good ol' chicken marsala meets Italian stuffed chicken and it is
so
darn good. I feel like from this day forward we should just all agree that chicken marsala should
always
be stuffed. Everybody on board?? Excellent.
This dish comes across elegant and sophisticated, even though it is incredibly easy to make with simple ingredients. If you haven't stuffed chicken before – don't fret! – it's a walk in the park. Simply cut a horizontal slit in one side of the chicken, being sure not to cut quite all the way through the other side, to make a pocket.
Then you fill that pocket with all the yummy goodness your little heart desires. Today we're stuffed the chicken with mozzarella cheese, sun dried tomatoes, and parmesan cheese. This combo is pure heaven!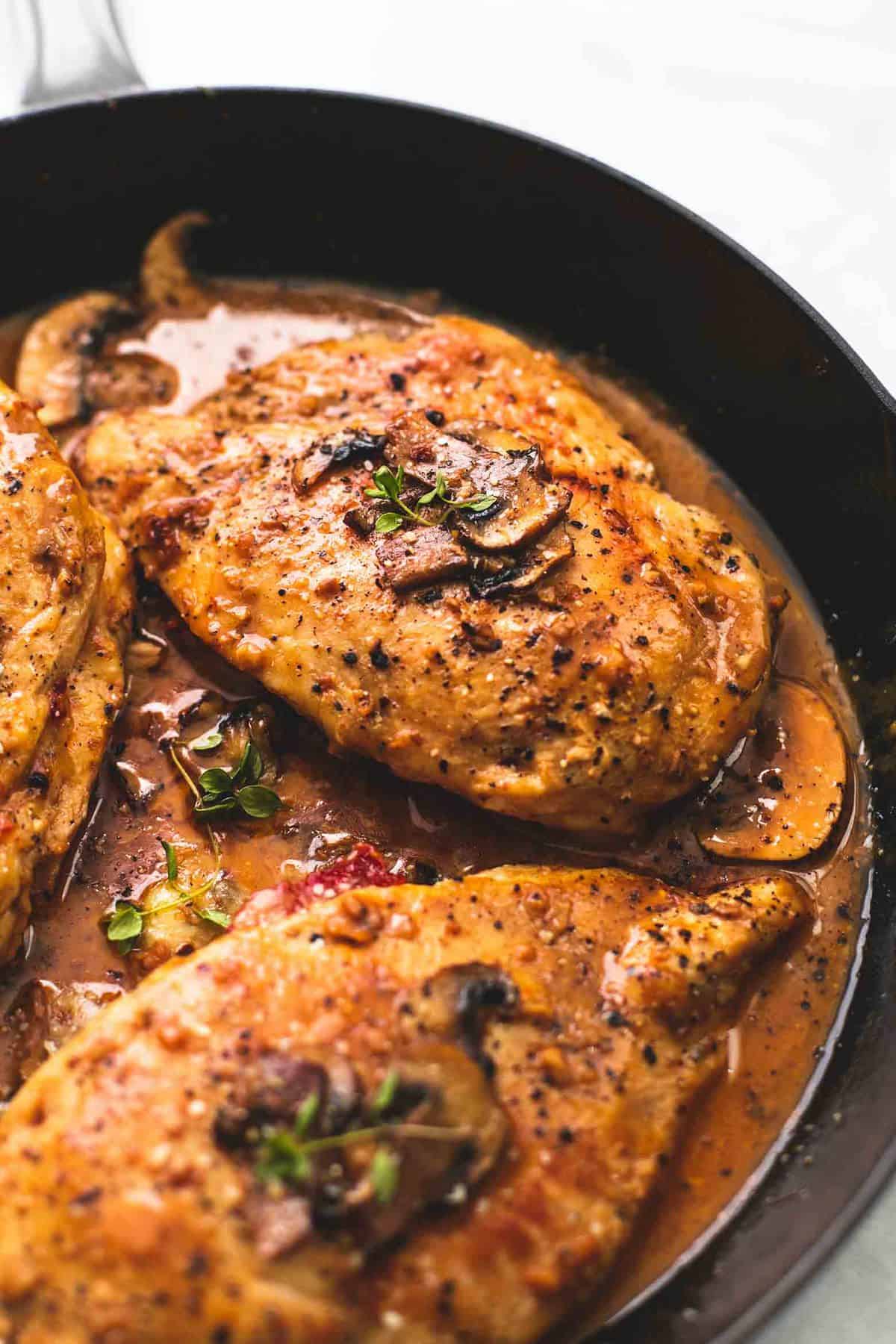 If you thought you liked chicken marsala before, you're going to go nuts for this version. An extra 5-10 minutes is all it takes to transform a classic into the best weeknight meal you've had in ages.
Don't be afraid to add extra cheese if that's your thing – because it's my thing and I totally get it! I even like to throw some finely grated parmesan cheese on top at the end for that last little punch of YUM.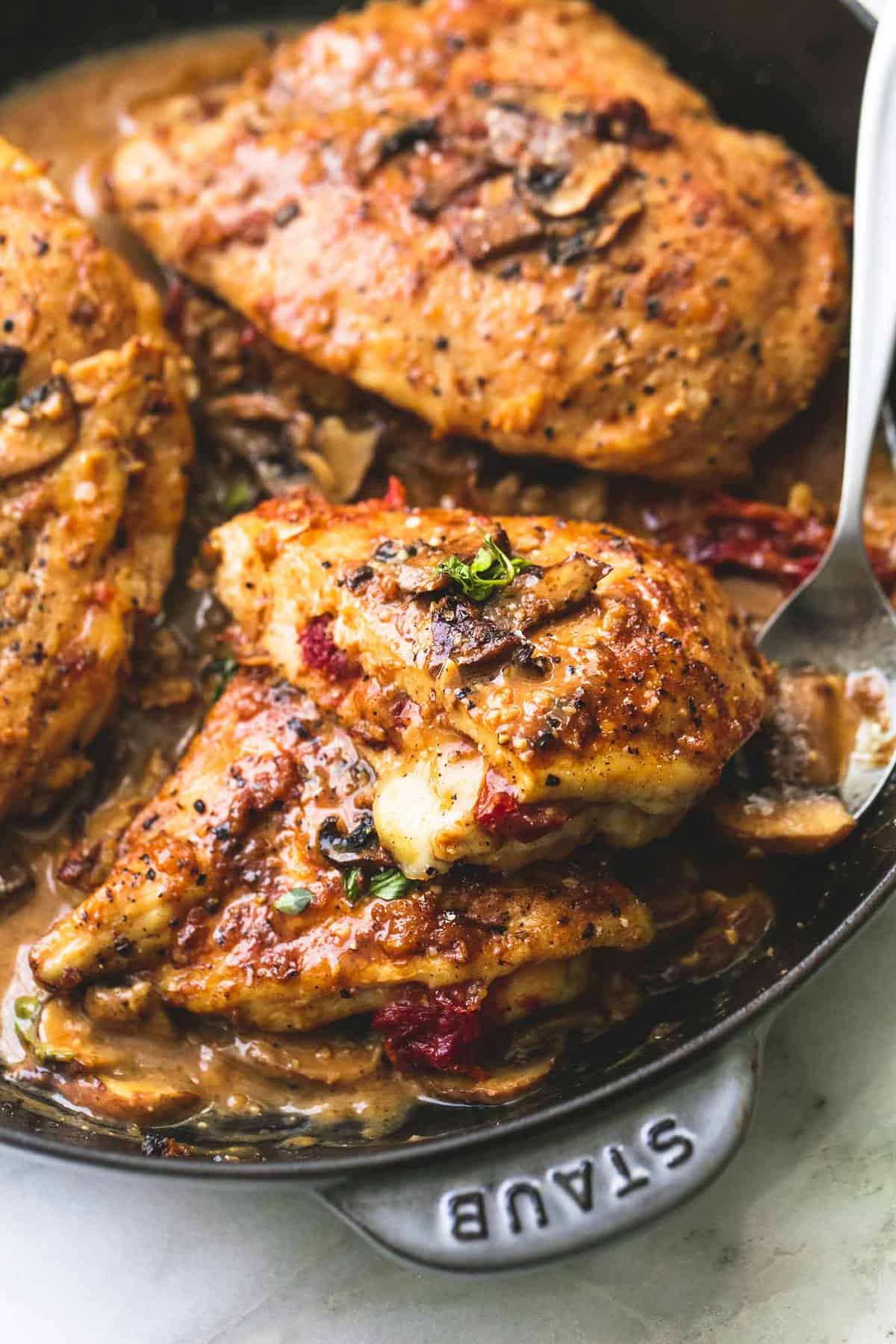 WHAT PEOPLE ARE SAYING ABOUT THIS STUFFED CHICKEN MARSALA
"I made this and it was an enormous hit! So much so that my family wants it again for thanksgiving instead of traditional thanksgiving. My only tweak was to wrap some of the breasts in prosciutto (until I ran out of prosciutto). I may try pounding the breasts flat the next time so that they can hold more of the filling." – Alex
"Terrific meal. We found that 4 large breast made enough for three meals. We steamed a bag of spinach as a bed for the chicken on Night #1 and used rice as the bed the other two meals. Can't put enough garlic, mushrooms & sun dried tomatoes in for our tastes. Enjoy!! Think we'll add some baby shrimp to the sauce next time." – Glenn
"Just made it last night, it had soo much flavor it in. My husband is a picky eater and he said it was delicious!!!" – Ashika
"I noticed this recipe on a friends FB page. It looked so good, I had to try it. Last night I did, and was very impressed as was my friend. I used the recipe straight up with only extra mushrooms and I tell ya, it was fantastic. Great Recipe!!!" – Jim
Seasoned and stuffed chicken marsala with mozzarella, parmesan, and sun dried tomatoes, smothered in savory marsala mushroom sauce.
INGREDIENTS
4

medium

boneless, skinless chicken breasts

8

slices

mozzarella cheese

1

12-ounce jar

julienned sun dried tomatoes packed in oil, drained

(if you can't find them julienned you can buy sun dried tomato halves and thinly slice them yourself)

2/3

cup

shredded parmesan cheese

3

tablespoons

oil

salt and pepper, to taste

2

teaspoons

Italian seasoning
Marsala Sauce
1 1/2

cups

marsala cooking wine

(may sub chicken broth)

3

teaspoons

minced garlic

1

cup

sliced mushrooms

1/2

cup

heavy cream

1/2

teaspoon

salt, or to taste

1/4

teaspoon

black pepper, or to taste

grated parmesan cheese and parsley or thyme for topping (optional)
INSTRUCTIONS
Preheat oven to 400 degrees. Use a sharp knife to cut a slit horizontally along one side of the chicken breast, being sure not to cut all the way through the chicken - the goal is to make a "pocket".

Fill each pocket with 2 slices of mozzarella cheese, 1/4 of the sun dried tomatoes, and 1/4 of the shredded parmesan cheese.

Pinch together the open side of the chicken breasts and secure with toothpicks. Drizzle chicken with oil, then sprinkle with salt and pepper to taste, and Italian seasoning, rubbing in with your fingers.

Transfer chicken to a large oven-safe skillet and brown chicken over medium-high heat for 3-4 minutes on each side. Place chicken on a plate while you prepare the marsala sauce.

In the same pan (don't clean it) add marsala cooking wine, garlic, mushrooms, salt and pepper, and heavy cream. Stir and bring to a boil and cook for 3-4 minutes. Return chicken pan and spoon some of the sauce over the chicken.

Transfer skillet to preheated oven and bake for 20-25 minutes until chicken is cooked all the way through and cheeses are melted. Spoon sauce over the chicken, top with grated parmesan cheese and parsley or thyme if desired, and serve.
NOTES
I use sun dried tomatoes packed in oil, drained