Sometimes I am in the mood for homemade chicken noodle soup, but I simply don't always have the time to make it. It just simply takes too long. However, you really can have homemade chicken noodle soup recipe in 20 minutes or less.
All you need is the chicken already cooked. Now you can just shred up a rotisserie chicken, but I like to keep shredded chicken in my freezer just for moments like these.
Maybe you like this : Over 40 Keto Solution
Not only does it save time and money but it tastes amazing. We love tips like this because they make dinner so easy!
Make sure you read my post on how to shred your chicken in your KitchenAid mixer in seconds! I like to cook up chicken in bulk and then shred it. I save it for soups, casseroles, Quesadillas, and enchiladas. It is a nice time saver in the kitchen.
Ok back to the soup!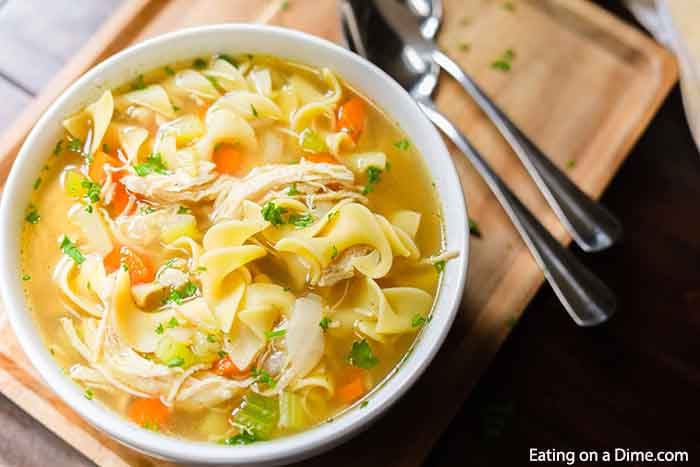 Chicken noodle soup ingredients:
chicken breasts cooked and shredded (can be frozen)
chicken broth or chicken stock
water
carrots
onion
thyme
bay leaf
garlic salt or minced garlic
salt and pepper to taste
egg noodles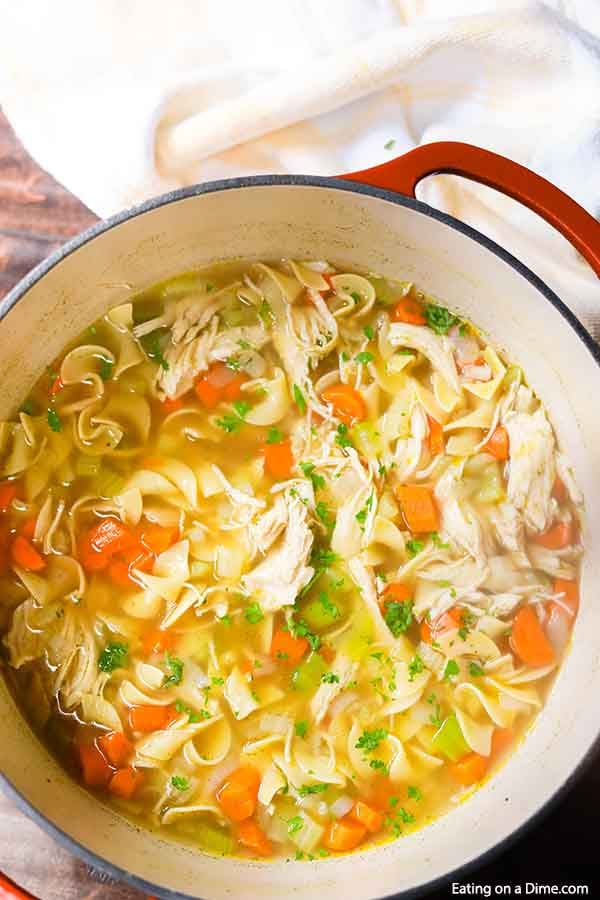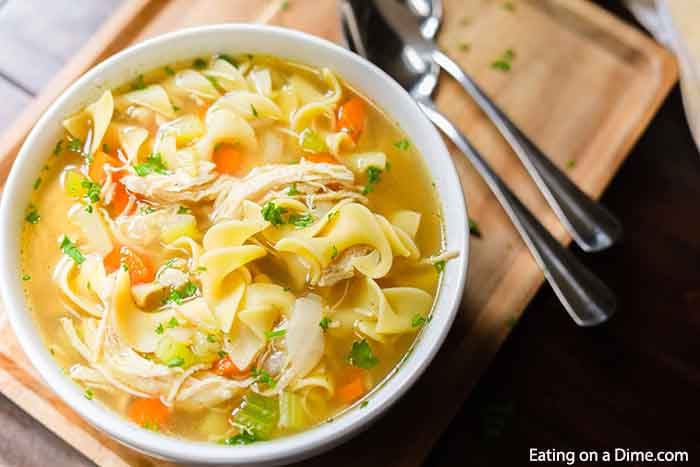 How to make homemade chicken noodle soup:
In a stock pot, drizzle olive oil. Add the chopped carrots, celery, and onions and cook until they become soft. This will smell amazing!
Next, add chicken broth, water, and seasonings. Bring to a boil.
Allow the vegetables to continue to cook and the chicken to thaw and heat up.
Finally, add pasta and cook on medium-high for about 10 minutes. So easy!
Keep reading for the full recipe.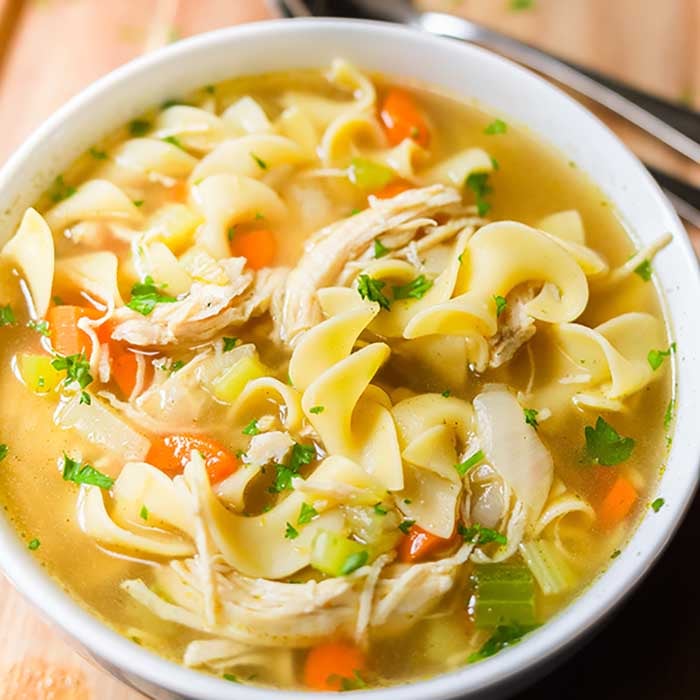 How do you add flavor to chicken soup?
The chicken broth combined with the seasonings give this soup the best flavor. You will absolutely love how amazing this tastes.
This soup has the best flavor and SO delicious!
What goes well with chicken noodle soup?
We love to serve this soup with crackers or warm bread like Easy Homemade Dinner Rolls Recipe. We also love these Homemade Hawaiian rolls.
The broth is so delicious that you will want something to dip into the soup and get every last drop.
Once you try it, you will see what I am talking about. It has the best flavor and incredibly easy to prepare.
It is that easy to make 20 minute chicken noodle soup recipe!
That it is! Dinner can really be that easy when you have chicken already ready in your freezer.
Save time when you make rotisserie chicken noodle soup!
We are all about keeping life simple and making dinner easier. You don't have to use a rotisserie chicken but it sure makes life easier when you do!
I love to serve the rotisserie chicken for dinner one night and then shred the leftovers for soup the next day or later in the week. You can also freeze the chicken to have on hand for future use.
It sure helps get dinner on the table fast!
Make this quick chicken noodle soup even easier with this tip:
This recipe like many calls for diced onions. Another time saving tip is to use a small food chopper or food processor to quickly and easily chop the onions.
If you do not have one of these, I highly recommend them. They are such a time saver and you can get the veggies really fine if you have children that are picky.
I usually just chop the entire vegetable and freeze what I don't need. It's so nice to be able to just take the diced onion out of the freezer for recipes.
This is how I meal prep. It's so quick and easy and helps get dinner on the table fast.
Learn and how to freeze onions and also how to freeze peppers to save so much time in the kitchen!
Chicken noodle soup recipes are budget friendly!
This soup recipe is a great way to stretch your meat budget. You can also substitute chicken thighs for chicken breasts and it is still amazing.
We have even used a combination of both and it turned out so yummy. Use what you have!
Feel free to add different veggies depending on what your family likes. This meal is so easy to make and very versatile.
I am all about using what we have in the pantry or can get on sale at the grocery store. By shopping when things are on sale I save money on groceries and it really helps our budget.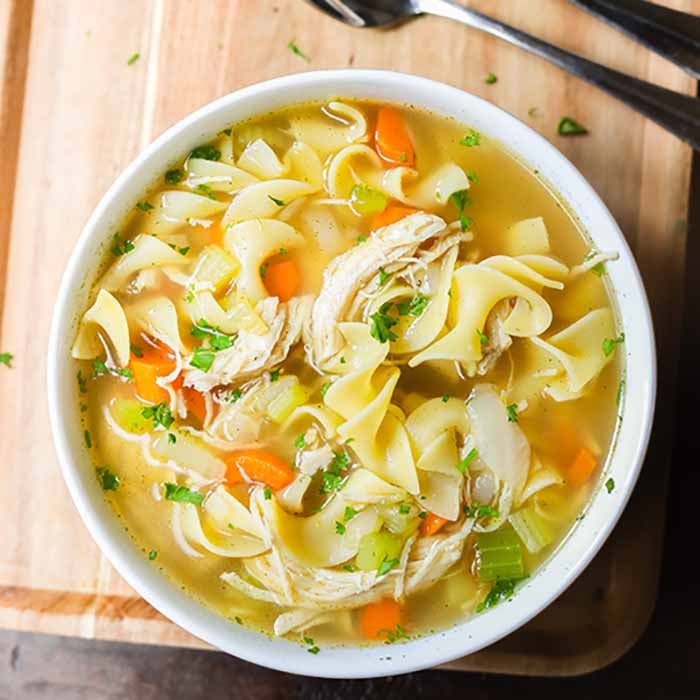 I keep recipes like this on the regular menu plan rotation because I know the entire family will enjoy and it is easy to use what I have.
In fact, I cut our grocery bill by 50% off by following these 8 Tips for for Saving Money on Groceries by Menu Planning! Save that money for a family vacation or maybe just some wiggle room in the budget.
Everyone will be well fed and your budget will be better as well. Give some of these tips a try!
Skip the store bought soup and make this easy homemade chicken noodle soup from scratch!
Once you see just how simple this recipe is, you will never buy the canned soup again. It is so easy to make chicken noodle from scratch and the flavor is amazing.
You can't beat homemade. It is the best comfort food and everyone will love this soup.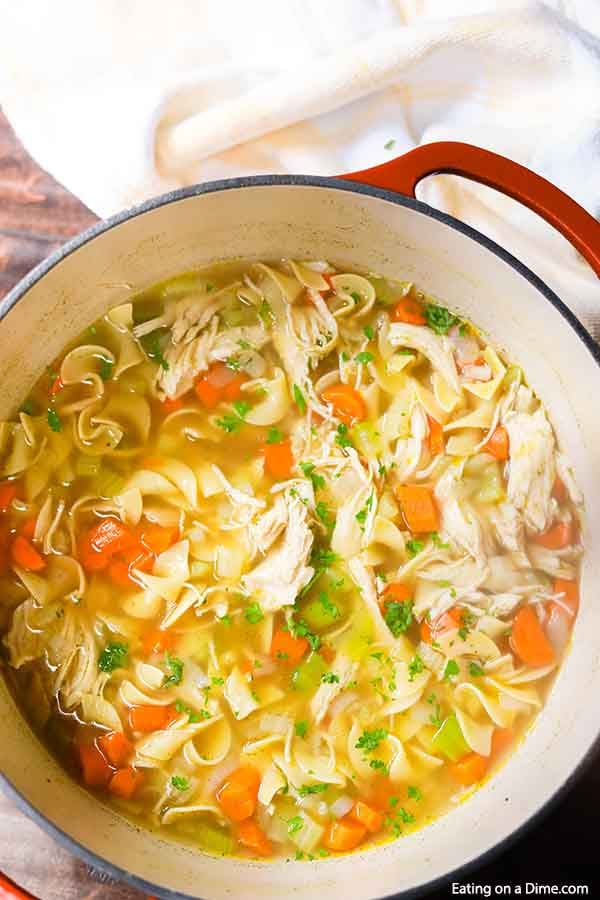 Try this homemade chicken noodle soup with egg noodles!
This is the best homemade chicken noodle soup!
If you are looking for comfort food that is so easy to make give this recipe a try. Make sure you have a large pot because you will want to have leftovers!
Freezing chicken noodle soup is super easy and perfect for quick lunches or dinners later in the month. Since this easy soup recipe takes less than 30 minutes, it is such a simple recipe even during busy weekdays.
I love that I can have this soup ready in just 20 minutes! The kids love it and we all get to enjoy a great meal.
The egg noodles tastes amazing with the roasted chicken. We also like to use a little lemon juice before serving for extra flavor. Yum!
You can use homemade chicken broth if you prefer but anything will work. Just keep it simple and do what works best for your family!
We all love this recipe and it is so easy and frugal!
Print this chicken noodle soup with chicken breast recipe below:
20 Minute Homemade Chicken Noodle Soup
This easy homemade chicken noodle soup recipe can be made in 20 minutes when you are wanting a soup but without all the extra work. I think your family will love it.
Keyword:
20 Minute Homemade Chicken Noodle Soup
Ingredients
2

boneless skinless chicken breasts

cooked and shredded

8

cups

chicken broth

2

tablespoons

olive oil

4

celery stalks

chopped

4

whole carrots

chopped

1/2

onion

diced

1/4

teaspoon

thyme

1

teaspoon

minced garlic

1/2

teaspoon

salt

1/2

teaspoon

pepper

1

cup

Egg noodles

2

cup

water
Instructions
In a stock post drizzle with olive oil.

Cook the carrots/celery/onion mixture for 5-8 minutes until beginning to become soft.

Add chicken broth, water, and seasonings. Bring to a boil. Allow the vegetables to continue to cook and the chicken to thaw and heat up.

Add pasta and cook on medium-high for about 10 minutes.

Serve with your favorite rolls, like our Homemade Hawaiian rolls.
Recipe Notes
You can use rotisserie chicken. Just shred it and use about 2 cups of rotisserie chicken in this recipe
Nutrition Facts
20 Minute Homemade Chicken Noodle Soup
Amount Per Serving
Calories 185
Calories from Fat 72
% Daily Value*
Fat 8g12%
Cholesterol 29mg10%
Sodium 383mg17%
Potassium 638mg18%
Carbohydrates 14g5%
Protein 16g32%
Vitamin A 6925IU139%
Vitamin C 4mg5%
Calcium 43mg4%
Iron 1mg6%
* Percent Daily Values are based on a 2000 calorie diet.